Workshop on Managing, Measuring and Maximising the Intellectual Capital of IOS in Digital Environment

April 29, 2017 at Institute Building, 162, Jogabai, Jamia Nagar, New Delhi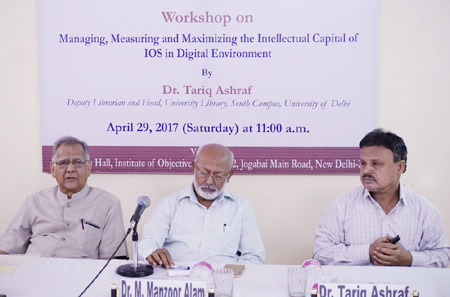 A workshop on "Managing, Measuring and Maximising the Intellectual Capital of IOS in Digital Environment" was organised by the Institute of Objective Studies at its conference hall on April 29, 2017. Speaking at the workshop, the Chairman of IOS, Dr. M. Manzoor Alam said that we were living in digital India and we had to be digital. He further stressed that digitalisation had become important in the present context as data collection and its dissemination was just a matter of seconds. This facilitated fast work of an organisation which meant saving time and money. This also led to less, or almost no, pendency of work. Referring to an incident in UAE some 10 years ago, he said that the then king of the Emirate had ordered all government servants to become computer savvy or else they would face the axe. His order had a salutary effect on them: they became computer literate and started working on computers. He asked those working in the IOS to emulate the example and reduce paper work by switching over to computer.
The Secretary General, IOS, Prof. ZM Khan observed that the change irrespective of its nature be accepted. There was also no need to see only one side of the coin. Change was always in a flux, sometimes visible and sometimes invisible. Illustrating his point, he said that nobody had visualised that the element of Hindu Rashtra would take its root in post-1857 period and grow into a virulent movement by 1947. This became possible through meticulous planning and the use of communication skills. "We also need an institute that can monitor the disinformation campaign against Muslims being carried out by communal forces", he added.
Dr. Tariq Ashraf, deputy librarian and head, university library, South Campus, University of Delhi, while making a power-point presentation, listed the benefits of digitalisation. He said that it offered the facility to read articles of one's choice on the internet, which had created a social media platform that was being used by millions of people all over the world. Describing Google as the fastest search engine, he said that it had signals under sea that could not be altered even in times of war. He admitted that the facility was vulnerable to misuse. Content of the text on net could be blocked and the access to it could also be blocked, he added.
As regards maximizing the intellectual capital of IOS, he suggested to have all the literatures/publications brought out by the IOS converted into digital format and made accessible online. This would facilitate single-point access of all IOS publications, he said. He further said that it would help preserving the valuable works IOS has done so far.
The workshop was attended by the staff of the IOS and its associate offices.

Earlier, a verse from the Quran was recited by Maulana Ajmal Farooq Nadwi and the proceedings were conducted by Ms. Hina Fatima, associate librarian of the IOS. Mr. Saad Neyazi, librarian of the IOS proposed a formal vote of thanks.

Full text of presentation by Dr. Tariq Ashraf